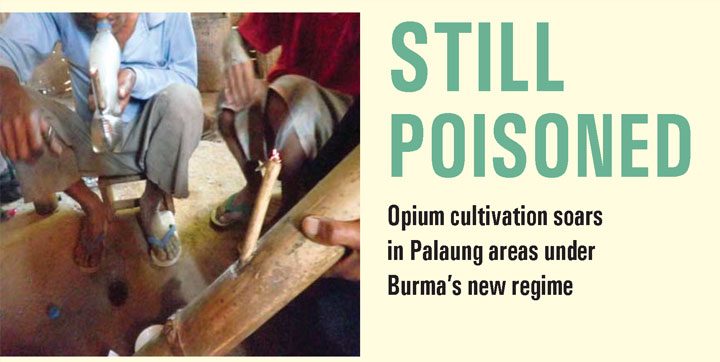 Opium cultivation surging in constituency of Burma's new ruling party
Opium cultivation surging in constituency of Burma's new ruling party
October-25- 2011
A new briefing paper by the Palaung Women's Organization (PWO) exposes a dramatic increase in opium cultivation in Burma's northern Shan State in the constituency of a drug lord elected into the new military-backed parliament.
Still Poisoned, a follow-up to PWO's 2010 Poisoned Hills report, documents how opium cultivation in 15 villages in Namkham township has soared since the November 2010 election to over 1,100 hectares, an increase of over 78% in only two years. The opium trade in this area is controlled by "Pansay" Kyaw Myint, head of a pro-regime "People's Militia Force" and elected MP for Burma's ruling Union Solidarity and Development Party.
PWO research also shows that opium growing has spread to 12 new villages in Namkham in the past year, and regime troops, police and militia have been openly taxing opium farmers.
There has consequently been a disturbing increase in drug addiction among local Palaung communities. PWO found that in one village, over 90% of males aged 15 and over were now addicted to either opium or heroin, more than double the rates recorded two years earlier.
When campaigning to be elected into parliament, Kyaw Myint promised villagers they could grow opium for five years if they voted for him.
"After the election, opium cultivation and drug addiction in our communities has worsened," said a villager from Namkham. "Now militia leader Kyaw Myint has become an MP, he has more power to deal in drugs."
PWO's latest research underlines the urgent need to address the political problems at the root of the drug problem in Burma.
"Local paramilitary leaders are being allowed to cultivate and profit from drugs in return for helping the regime suppress ethnic resistance forces," said Lway Nway Hnoung, principal researcher of the report. "Burma's civil war and drug production are two sides of the same coin."
PWO is calling for a nationwide ceasefire and a tripartite dialogue which addresses the political aspirations of Burma's ethnic nationalities as the most effective way to address the opium problem in the long-term.
The full report can be viewed on: www.palaungwomen.com and www.palaungland.org
Contacts:
Lway Nway Hnoung- (+66) 821 648 115
Lway Amm-                (+86) 13095219281
Lway Seng Bloh          (+66) 856057318
https://taangwomen.org/wp-content/uploads/2018/05/report1.jpg
362
720
palaungw
https://taangwomen.org/wp-content/uploads/2018/05/logo-eng-2-1.png
palaungw
2011-10-25 06:03:28
2018-05-19 06:24:12
Opium cultivation surging in constituency of Burma's new ruling party