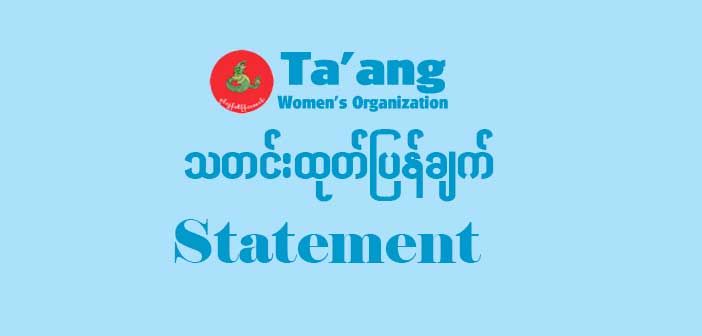 Civil Society Organizations in Myanmar Demand Truth And Justice For Three Villagers Who Were Arbitrarily Arrested And Killed
Three villagers living in Muse and Namkham Townships were arrested on May 29, 2020 by the Infantry Division 99 of the Burmese Army. After three months of no information on where about they were, some villagers found their bodies on August 20 and informed the Muse police station. Then, they dug out the bodies and found they are the bodies of missing villagers.
According to eyewitnesses, two of the three villagers, who lived in Mankan and Mong Set villages in Namkat village Tract, Muse Township, were arrested by the Burmese Army's 99 Infantry Division while burning charcoal. The other villager is a resident of Loi Mon village in Namkham Township and it is unknown where and how he was arrested.
The wife of the deceased, Aik Leik, said, "They are not affiliated with any organization. No matter how much gold and silver you pay me, I shall never be satisfied and shall never forget. Nobody wants this kind of thing to happen again. And I want (the soldiers) know who are soldier and who are civilians."
The arbitrary arrest and killing of civilians of the Infantry Division 99 of the Burmese Army go against the aim of the Universal Declaration of Human Rights, and Article 3 states: "No one shall be subjected to torture or to cruel, inhuman or degrading treatment or punishment." The acts also explicitly violate the code of conduct for soldiers of the Geneva Convention article 4 the protection of civilians during the armed conflicts and article 3 for soldiers to follow in the non-international armed conflict (NIAC).
In addition, it violates on the targeting civilians which is recognized by the international community as serious international crimes and accepted as international traditional law; It also violates the distinction of non-targeting of civilians, a fundamental principle of International Humanitarian Law (IHL) that must be respected in all countries. As the Myanmar government became a party to the Geneva Conventions in 1992, it was required to abide by the terms and conditions of the treaty.
On the aforementioned matter, the Ta'ang Literature and Culture Group of Muse Township issued a statement on August 26, 2020, and the Commander of the Infantry Division 99 of the Burmese Army summoned them to Namphetka village, Kutkai Township on August 27. He said he would investigate whether their soldiers from ID 99 perpetrated the crimes. On the morning of August 31, the PSO of the Commander of the ID 99 of the Burmese Army called and said, "According to our records, the 99 Infantry Division was not active on the day they were arrested. It is not our group's fault as no report came up. I don't know about other groups," he said.
Lwe Poe La Bar, a member of Ta'ang Civil Society group said, "Villagers have been detained for months and brutally murdered. It is a serious crime. I want truth and justice to be done as soon as possible for the affected family. There must be responsibility on this case. The perpetrators for this crime must be punished."
Demands
Investigate the murder of the villagers as soon as possible and to establish the truth and justice.
The Burmese military should impose transparent and effective sanctions on the perpetrators in public.
Provide appropriate remedy for the bereaved family
Stop to commit any other human rights violations other than like this one in the future
Stop using the people as hostages
End hostilities and military operations in ethnic areas and to abide by the Geneva Conventions and other international laws
Implement genuine and inclusive peace process
Contact
Lway Hlar Raing – 09- 257 726 713
Mai Gun Sangar – 09-258 385 728
Lway Chee Sangar – 09- 791 530 451
https://taangwomen.org/wp-content/uploads/2018/09/statement-img.jpg
336
702
taangwomenorg
https://taangwomen.org/wp-content/uploads/2018/05/logo-eng-2-1.png
taangwomenorg
2020-09-14 09:29:04
2020-09-14 09:29:06
Civil Society Organizations in Myanmar Demand Truth And Justice For Three Villagers Who Were Arbitrarily Arrested And Killed