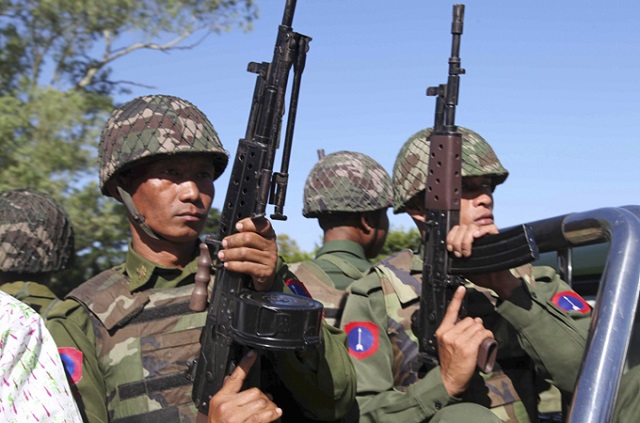 Myanmar Tatmadaw Soldier Shot/killed a Ta'ang Villager
August 21, 2017
On August 16, a soldier from Mone Hom base Myanmar Tatmadaw, shot/killed Mai Aik Kyoh (18) from Kaung Kham village, Tar Moe Nyel, Kutkai Township. According to locals, Mai Aik Kyam was killed at 11 am after the soldier took him as a porter.
Mai Aik Kyoh was killed when he was visiting his sister in Man Kaung village.
A Local said, "Aik Kyoh is from Kaung Kham. Her sister is married in Man Kaung village and he was killed when he was visiting his sister. A soldier came to the corn farm where they were working and took his sister and him to be porters. The soldier also slapped and took a Chinese girl with them. Halfway, the girl ran away. Only Aik Kyoh and her sister were there. The soldier asked Aik Kyoh if he still has parents. When he replied he doesn't have parents anymore, the soldier said 'we are the same and I will kill you''. And then, the soldier shot him.
Although family and relatives of Mai wanted to file a lawsuit, the Tatmadaw pressured and threatened the family. When Man Kaung's administrator went to negotiate with Mone Hom based Tatmadaw authorties on August 17, the Tatmadaw offered 800000 kyats for Mai's sister and asked to settle the case.
On August 17, after Man Kaung administrator went to meet with Myanmar Tatmadaw in Mone Hom, they gave the money to Mai Aik Kyoh's sister and asked her for settlement of the case.
Information Documentation and Research Department
Ta'ang Women Organization
https://taangwomen.org/wp-content/uploads/2014/01/military-burmese-army.jpg
423
640
palaungw
https://taangwomen.org/wp-content/uploads/2018/05/logo-eng-2-1.png
palaungw
2017-08-21 23:32:12
2018-05-18 09:30:24
Myanmar Tatmadaw Soldier Shot/killed a Ta'ang Villager