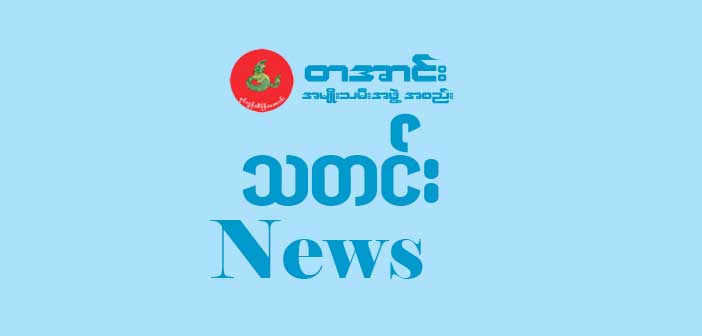 Two villagers shot by Burmese Army, while looking after buffalos; One dead on the spot
The Burmese Army's Light Infantry Battalion (LIB) 361, at 9 am on August 30, opened fire on Mai Pan Sar and Mai Aik Aung in Man Kan Village, Panthapyay Tract, Mong Yaw Township, Northern Shan State, and one of them died on the spot and other one escaped.
In the incident, Mai Aik Aung and Maing Pan Sa, who live in Man Kan village while looking after the buffalos, stopped to look the Burmese army troops who reached them from behind between Nong Khio and Man Nar villages. Then, the troops opened fire to them without any conversation.
Mai Aik Aung who escaped from shooting told TWO, "Two of us are looking after buffalos. On the way, we met with soldiers and we stopped. One group of soldiers passed us without doing anything. But, the troops arrived later opened fire to us and Pan Sar was shot. I fled and escaped. I told village elders when I got to the village. I don't know why they shot us. They shot us without saying anything."
According to local villagers, the road between Nong Khio and Man Nar villages was closed to traffic as the Burmese Army cremated the body of Mai Pan Sar.
Mankan village tract head Ta Kun Kham said, "When Aik Aung came back and told us, we wanted to go and see immediately. But, the Burmese soldiers did not allow. They blocked the road between Nong Khio and Man Na. No one was allowed to go. At that time, they were burning the body of Mai Pan Sa. We could go only around 4 pm. When we got to the place, we could find only the bones of Mai Pan Sa. They had burnt him on the side of the road."
The villagers from Man Nar also confirmed that LIB 361 shot two villagers.
The village head requested the Ta'ang civil society to work for the justice for this incident.
There was armed engagement between Ta'ang National Liberation Army (TNLA) and Burmese Army (Tatmadaw) near Man Nar Sai village on August 29.
Man Pan Militia, Shan State Progressive Party and Ta'ang National Liberation Army as well as Burmese army troops are moving around this area.
https://taangwomen.org/wp-content/uploads/2018/08/news-img.jpg
336
702
taangwomenorg
https://taangwomen.org/wp-content/uploads/2018/05/logo-eng-2-1.png
taangwomenorg
2020-09-09 08:54:00
2020-09-14 09:05:29
Two villagers shot by Burmese Army, while looking after buffalos; One dead on the spot