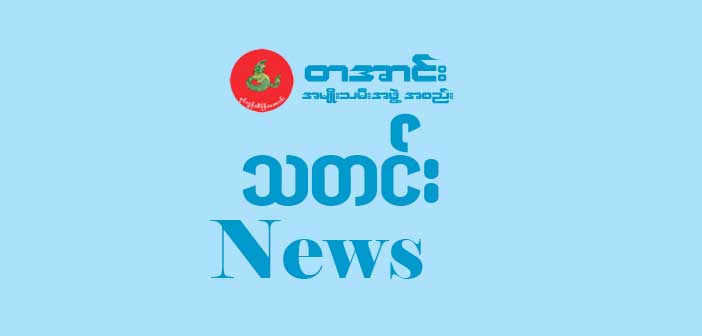 Some Houses and A Monastery Destroyed on Explosion of 6 Artillery Shells in Panchin Village
Six artillery shells dropped and exploded in Panchin village and some houses and a monastery were destroyed, said locals. The shells came from the fighting between Ta'ang Natinal Liberation Army (TNLA) and Restoration Council of Shan State (RCSS/SSA) along the road between Panchin and Loklae villages Narsai village tract, Namtu township in northern Shan State on January 2.
A local villager who doesn't want his name to be mentioned said, "Now a day, there has been continuous fighting. We don't dare to stay at the village. We flee when there are fighting and came back when it's quiet. We cannot do our work. Currently, we are trying to go back from Narsai. I don't know whether we could get back to our village or not. Some houses and the monastery were hit and destroyed. I am feeling insecure to go back to my village."
It is not known which armed group used the artillery shells dropped into Panchin village, and both sides are constantly entering and leaving the village.
Besides, there were many unexploded ammunitions in the village, he continued.
Military tension between the TNLA and the RCSS was increased since December 9, 2020 after fighting resumed in Na Kye village in Namtu Township.
Similarly, there was military tension between TNLA and RCSS since December 25 in Loi Tin village tract in Kyaukme township and villagers have been fleeing daily to Kyaukme. The number of war refugees reached more than 1600.
https://taangwomen.org/wp-content/uploads/2018/08/news-img.jpg
336
702
taangwomenorg
https://taangwomen.org/wp-content/uploads/2018/05/logo-eng-2-1.png
taangwomenorg
2021-01-07 22:30:36
2021-01-07 22:30:38
Some Houses and A Monastery Destroyed on Explosion of 6 Artillery Shells in Panchin Village