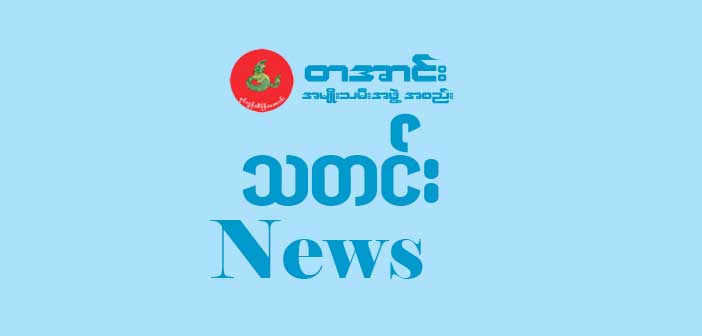 RCSS troops loot people's houses and belongings of the war refugees
Restoration Council of Shan State (RCSS/SSA) soldiers got into the houses and took belongings of the villagers while the villagers from Loi Ting village tract in Kyaukme township fled to Kyaukme town due to fighting started on December 25.
Fighting broke out between Ta'ang National Liberation Army (PSLF/TNLA) and Restoration Council of Shan State (RCSS/SSA) in Loi Ting village tract and from December 25 to until the time of reporting around 1600 people fled to shelter at Kyaukme town.
Loi Ting village tract includes Kaungkhar, Hkonngin, Panmakham, Panlort, Kongthar and Mansat villages.
A villager who doesn't want to be mentioned his name for security reason said, " All the households were searched when almost all the villagers had fled the village. Same thing happened in seven villages. Some properties were found intensionally destroyed. Some belongings were taken. We can't know every detail".
In addition, 11 cows from Panlot village and 4 cows from Kaungkhar village were lost and SSA soldiers took cooking oil, fuel and food stuff from stores, said a local villager.
"We welcome all the armed soldiers from any group. We, the ethnic people tried to live with anyone. We trained ourselves to be like this. If there is peace, we want to go back and live in the village. The troops in the village should have sympathy and pity the villagers. I don't want to happen these things as everyone is difficult during the pandemic period."
Currently, RCSS troops took positions in Loi Ting village tract and fighting can break out anytime with TNLA troops so villagers could not go back to village sheltering at Kyaukme.
https://taangwomen.org/wp-content/uploads/2018/08/news-img.jpg
336
702
taangwomenorg
https://taangwomen.org/wp-content/uploads/2018/05/logo-eng-2-1.png
taangwomenorg
2021-01-15 21:37:00
2021-01-28 21:38:10
RCSS troops loot people's houses and belongings of the war refugees