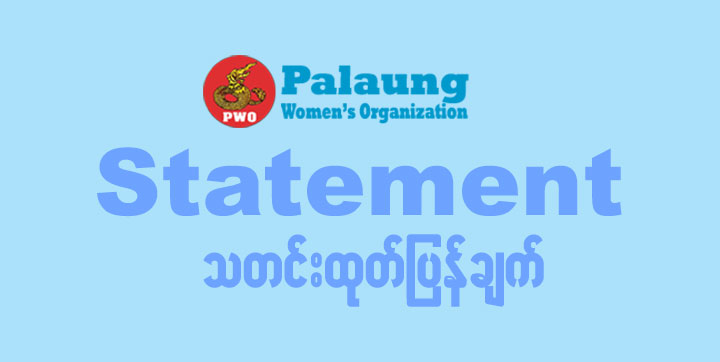 Joint Statement on Targeting of Ta'ang Civilian Populations and Human Rights Violations by the Myanmar Tatmadaw 
Joint Statement on Targeting of Ta'ang Civilian Populations and Human Rights Violations by the Myanmar Tatmadaw 
March , 2016
We strongly condemn and protest the targeting of Ta'ang civilian populations by the Myanmar Tatmadaw in its attacks, since February 2016, in the Ta'ang Region of Northern Shan State. The Myanmar Tatmadaw has sent in massive military forces, and this has resulted in gross human rights violations.
Since February 22, 2016, the Myanmar Tatmadaw has been committing grave crimes, including the arrest of about 100 innocent civilians, violently beating and torturing three civilians, seriously wounding three civilians in battles, and burning down 20 houses. Moreover, due to the destruction of the villagers' houses, possessions, paddy and rice, more than 1000 Ta'ang people have had to abandon their homes and flee. (Note: Details are cited in a separate file attached.)
We view the Myanmar Tatmadaw's targeting mainly of civilians and stoking the fire of civil war as deliberately creating problems for the new NLD government and persecuting the ethnic nationalities by discriminating against them politically. Accordingly, these acts, in addition to severely defiling the dignity of the Myanmar Tatmadaw, also undermine the trust in the Myanmar Tatmadaw, and based on the unacceptability of their actions to all the ethnic nationalities, we demand the following actions to be taken effectively.
For the above reasons, the Myanmar Tatmadaw shall:
(1) Release all the arrested villagers, unconditionally and speedily;
(2) Compensate for all the damages caused, including damages suffered by the persons who have been beaten and tortured; and
(3) Stop the expansion of military forces and offensives in regions of the ethnic nationalities, and return the military forces to their original bases.
Contacts:
(1) Mai Myo Aung (+95 09 – 256 236654)
(2) Lway Hlar Rain (+95 09 – 257 726713)
(3) Lway Poe Jaing Kee (+95 09 – 331 79203)
(4) De De Poe Jaing (+66 99 153 2248)
https://taangwomen.org/wp-content/uploads/2016/09/statement.jpg
362
720
palaungw
https://taangwomen.org/wp-content/uploads/2018/05/logo-eng-2-1.png
palaungw
2016-03-22 05:59:57
2018-05-19 06:01:55
Joint Statement on Targeting of Ta'ang Civilian Populations and Human Rights Violations by the Myanmar Tatmadaw