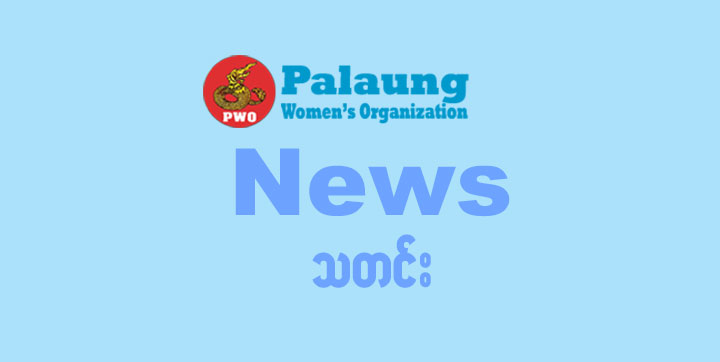 RCSS/SSA Obstructions in Northern Shan State Threaten Villagers Livelihood
RCSS/SSA Obstructions in Northern Shan State Threaten Villagers Livelihood
Monday, March 14, 2016
Information, Documentation and Research Department
Ta'ang Women's Organization
The Restoration Council of Shan State/Shan State Army (RCSS/SSA), currently based in the nationally recognized Ta'ang self-administered zone, between Sain Lane and Mine Wee villages, has begun forcing local villagers to pay taxes when conducting trade between the two villages, according to local sources.
Villagers from adjoining villages, including Sain Lane, are being asked to pay tax to the RCSS/SSA for transporting buffalos, cows and other sellable goods when crossing RCSS/SSA checkpoints. Villagers are required to pay 50,000 Kyats for each buffalo and cow which enters or exits their village.
Last month, the Ta'ang National Liberation Army (TNLA) set up a temporary base in the same location. However, when the coalition forces of the Myanmar Tatmadaw and RCSS/SSA arrived, clashes ensued which forced the TNLA to withdraw its troops from the area. 
According to the chairman of Sain Lane village, carrying rice from the Mine Wee and Namkham markets back to the villages has also been prohibited by the RCSS/SSA within the past month. This protocol has been strictly enforced, in addition to the new taxation on transporting livestock to and from villages.
"They worry that we will feed Ta'ang soldiers, so they don't let us carry rice back home. People are scared. Although they have money, they cannot go to the market to buy things that are needed for their families", the chairman said. 
Most villagers depend on market trade for their primary source of income, and recent obstructions to market access have become a barrier to maintaining their livelihoods.
The RCSS/SSA has also constructed a six foot trench between Ho Pan and Law Naw villages, to block motorbikes and other forms of public transit around the area according to the chairman, further obstructing the villagers access to their livelihoods.
Last week, the RCSS/SSA summoned the leaders of 28 villages to discuss the reduction of violence, requesting that the attendees inform relevant TNLA authorities of their demands. According to one attendee, the RCSS/SSA claimed they do not want any harm to transpire in the villages and urged that the TNLA retreat from the area to prevent clashes.
In February 2016, around 1,200 villagers from Law Naw, Pan Han, and Loi Hom villages were forced to abandon their homes and seek refuge in Mine Wee village due to hostilities and fighting between TNLA and RCSS/SSA-Tatmadaw coalition forces.
https://taangwomen.org/wp-content/uploads/2017/08/news.jpg
362
720
palaungw
https://taangwomen.org/wp-content/uploads/2018/05/logo-eng-2-1.png
palaungw
2016-03-14 10:01:16
2018-05-20 10:03:30
RCSS/SSA Obstructions in Northern Shan State Threaten Villagers Livelihood