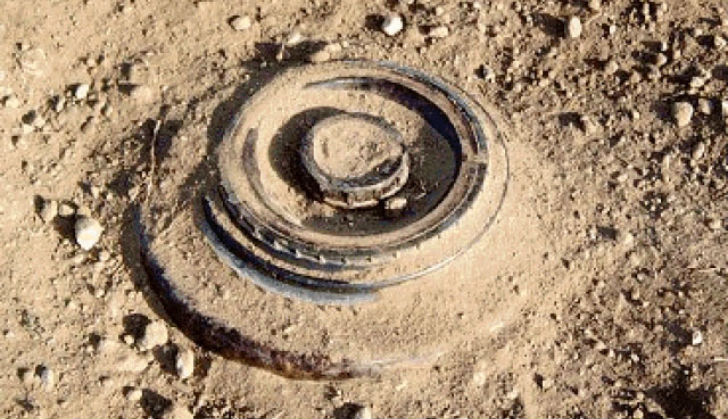 Because of a government army's landmine a local villager loses his right leg
January, 17, 2017
 Ta'ang self- administration in Namsam Township, A villager U Zaw Nyunt living in Moe Gae quarter, he went to the tea farm and he stepped on a landmine on the way home on January 16th 2017 at 11:30am. He got injured on his right leg and lost it.
According to U Zaw Nyunt " My wife and I went to the tea farm by motorbike. They didn't see anything in the morning. At lunch time he brought the bamboo and walked where they put their motorbike. He stepped on a Landmine which exploded while he took his motorbike. After the explosion he knew he got injured and he said to his wife to go back to ask help from their family members but he couldn't wait for them to come and help him. He tried to stand up and drive his motorbike, then he went back."
"Before he stepped  on the landmine, the government army announced that they had dug into the ground and put the landmine around the mountains but it didn't include the place where I went when they  announced it" said U Zaw Nyunt.
Moreover, after U zaw Nyunt stepped on the landmine, he went to the Nam Sam Hospital and the government army came to him while he was in the hospital. Then they said that landmine isn't one of our landmines which we put in the ground. U Zaw Nyunt's wife said to the government army: to know which armed organization put that landmine there, it is better to go together with the local leader and look for it. After that we can confirmed but they did not go and look for that landmine.
The landmine survivor is in the Lashio hospital now. Even though they have arrived in Lashio hospital, the doctor hasn't yet performed the operation and so we don't know the result on the right leg.
Information Documentation and Research Department
Ta'ang Women Organization
photo by : bulawayo24
https://taangwomen.org/wp-content/uploads/2017/10/landmines.jpg
419
728
palaungw
https://taangwomen.org/wp-content/uploads/2018/05/logo-eng-2-1.png
palaungw
2017-10-20 09:56:10
2018-05-20 10:36:51
Because of a government army's landmine a local villager loses his right leg